What is a brand and why is it important to your business? A brand is all about who you are as a company. Your brand shows how you differentiate yourself from the competition. Increase business with a strong company brand. Here is a quick checklist to creating the best brand for your business.
Your Ideal Customer
Who is your ideal customer? What motivates this client to buy what your company offers? Have you done adequate research to make sure that you have a product or service that people will want to solve their problems? Remember to take time to do your customer research when you are building your brand. Get specific with the details. Is your ideal customer a female or male? What age range is your customer? How much disposable income does he or she have to spend? Where do they live? Think about any other relevant questions. The more you know about your ideal customer, the better. Don't know where to start this critical research? Run market surveys and look for questions that people are seeking solutions to.
Need help building headlines to get your brand in front of new audiences? Check out this link to generate 250 unique headlines quickly!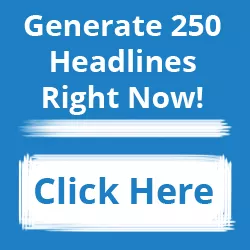 Company Name
One of the most important branding tips is to create an excellent name for your brand. You want a name that is not just good for now but in the future as well. Another helpful recommendation is to choose a name that is not extremely precise. As times passes, you may want to change the direction of your company. Select a name that offers this type of flexibility. Leave the specifics for the company tagline instead.
Company Tagline
What is a tagline? A tagline is a short statement that is like an elevator pitch. Create a catchy tagline so that you can get right to the point with potential customers. Offer a solution through your tagline. If you need inspiration for a tagline, think about some well-known taglines from companies like Nike. Their tagline is concise, and it draws people into the brand. Keep in mind that you can adjust your tagline at any time. It is much easier to legally alter a tagline than a company name.
Company Values
What is your business mission? What are the company goals? Make your mission clear to your customers. Come up with a brand mission that will resonate with customers. Write about your brand promise and include in on your website.
Company History
How was your company created? Is there anything interesting about your company's history? Write your company's history and include it on your company blog so that any visitor can learn more about your specific brand.
Company Image
A company logo is one excellent way to build your brand. Include your logo on everything to increase brand awareness. Another important tip is to create a set of colors for your brand. Don't go overboard with too many colors. Keep it simple and easy to remember like your tagline. Use these brand colors on business papers, your website, and social media channels. Another part of the overall company image is specific fonts. What font works well for your company correspondence and online presence?
Time spent on building your brand is one of the best investments you can make. Logojoy has this great resource that allows you to discover the best route to take when creating a logo for your business venture.
Company Voice
How can you captivate your customers interest? One simple way is to avoid using a bland voice. Think of your company as a person and think about what type of voice he or she would have to represent your company in every situation. This way you will think about the company voice in a multidimensional way.
Incorporate Your Brand In All Aspects Of Your Business
Your brand needs to be visible on your website, on social media business accounts, through customer service, email correspondence, blog posts, news articles, company attire, etc. Also, make sure that your business maintains your brand at all times. Train your workers about your brand so that your company is properly represented. Check out The Ultimate Marketing Summit Guide to help you market your brand through different channels.
Stay Original
Your company brand needs to be different from competitors. If you get stuck, don't just create something similar to another brand. You want to stand out from the crowd, not blend in with other companies. People prefer to do business with honest companies. An original company shows authenticity to customers.
When you start your brand-building process, make sure that you do not rush through any of the different steps. For example, if your company has a logo that looks like it was just thrown together, you might lose a little bit of credibility. It is imperative to spend enough time doing market research on potential customers wants and needs. This way your brand reflects their interests instead of your own. Time spent on building your brand is one of the best investments you can make.
Need help building headlines to get your brand in front of new audiences? Check out this link to generate 250 unique headlines quickly!