Social media platforms like Facebook, LinkedIn, and Twitter have changed the way that businesses interact with their customers. Companies that leverage social media tools are reaching more customers and making more sales than ever before, and the opportunities and uses social media provides expand every day.
What's not quite as obvious, though no less useful, is the way companies use social media platforms and tools for internal communication and connection. In the past, businesses and management relied on memos and bulletin boards, face-to-face meetings, and informal processes like water cooler gossip and chat. Now, teams can connect in fast and powerful ways that nurture collaboration and communication that result in greater efficiency and productivity that have a direct impact on your company's bottom line.
While the talk that goes on around the water cooler isn't always productive or conducive to your business's activity, there are some steps you can take to implement social media in an effective way that makes a positive impact on your company.
Need some help with business leaderships? Click here to learn how to Supercharge Your Business.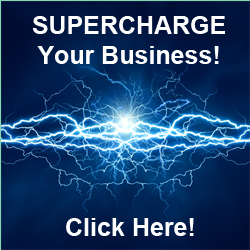 Start by Defining Communication Goals
When you're exploring internal social media use for your company, avoid focusing on the tools first. You might hear statements about setting up a Facebook page or having everyone join Twitter, but this isn't the best place to start. You'll either get pushback, or people will ignore the idea entirely.
Instead, start by identifying the goals of what implementing internal social networking should achieve. What improvements would you like to see in internal communication and collaboration? Once you have your goals set, then you can introduce the social media tools that should be used to accomplish those goals. Some goal examples are:
– Ability for team members to remotely access project documents
– Gathering ideas to help solve a current company problem and build a collaborative solution
– Sharing urgent information, business updates, or relevant new content
Once you've set your goals, then you can choose the tools that will best help your employees accomplish those goals.
Top Five Types of Tools To Use
– File Sharing: Probably the easiest tool to use within your company, file sharing allows someone to upload documents to a site where they are accessible by other team members. Documents can be uploaded for the purpose of being downloaded and viewed or edited and resubmitted. File sharing removes the need for meetings or email conversations, and there won't be any confusion over who has the most current version of the document. Some popular examples of file sharing tools are DropBox, Google Drive, and iCloud.
– Blogs: While your company might have a public blog for customers and potential customers, an internal blog can encourage employees to express their knowledge and expertise in a creative way. Insights and opinions can be shared that might be relevant to other employees, and blogs are an excellent tool for stimulating in-depth interaction between employees that can lead to new ideas, products, or processes.
– Wikis: Wikis refer to a simple and fast way to organize and share web pages so that the content can be updated by multiple users. When a project requires team collaboration, wikis are an excellent tool for quickly adding new content, editing old content, and refining existing ideas. The final project will reflect the collective knowledge and wisdom of everyone involved.
– Microblogging: Otherwise known as tweeting or status updates, microblogging allows employees to instantly send announcements or ideas out to everyone. With cell phone notifications, updates like these tend to be received faster than emails or instant messaging.
– Discussion Groups: Discussion groups are the digital version of the widely-used bulletin board. Usually dedicated to specific topics or user groups, it's the closest thing to real break room and water cooler chats. Users can post a comment or question, and the rest of the group can share their own opinions and insights.
When the Discussion Heads South
Using different types of social media platforms for interoffice discussion, there's always the possibility of the conversation taking a turn for the worse, just like it can in the break room. The best way to handle it is with a face-to-face, professional conversation to correct the behavior. It's important to keep tabs of the conversations happening around your brand on social media so you know how your company is being portrayed to outside people like prospective clients or even prospective employees. Knowing the complaints and concerns being made about your company can be an excellent resource for improving the workplace environment, too.
Utilizing different social media platforms as tools for your company is a great way to increase productivity and efficiency. Team projects especially benefit from using sharing sites, and you may find that the overall culture and atmosphere of your workplace improves when employees are given ways to express themselves and voice their ideas.